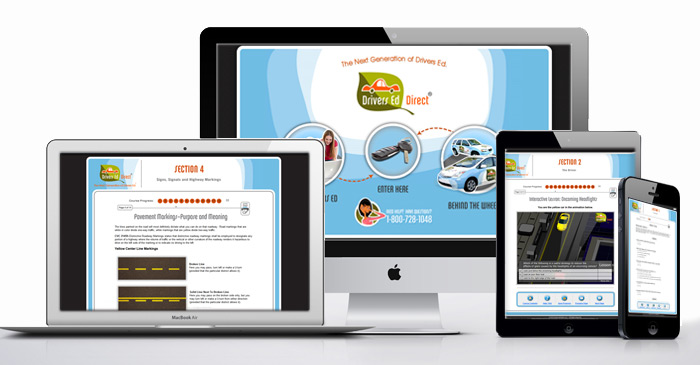 Which Online Drivers Ed is the Best?
Take a Test Drive at Drivers Ed Direct
Wednesday, September 20, 2023
So you're ready to start earning your driver's license and, like millions of other teens, have decided to take drivers education online. Sure, taking an online teen drivers ed course is the most convenient way to learn the rules of the road and earn your learner's permit. But is it the most educational way? Well, that all depends on where you go for your drivers ed class. With hundreds of approved online driving school providers out there, you want to make sure you choose one that is not only convenient and cheap, but also delivers a quality education that meets or exceeds the education gained from attending a drivers ed classroom.
Make sure the online course you choose delivers a quality education that meets or exceeds the education gained from attending a drivers ed classroom.
Low Cost Drivers Ed with High Class Education
Drivers Ed Direct is known first and foremost for the quality of its drivers ed curriculum. Students and parents reading the course will recognize that Drivers Ed Direct's authors didn't simply regurgitate the DMV Handbook. Rather, they took a thoughtful, helpful, and highly educational teaching approach. The language of the course is easy to understand, but not condescending. Course material is up to date and presented in a way to help dry topics come to life. In addition, the interactive lessons throughout the course help engage student's attention while reinforcing important concepts from the text. Parents might think that a course this professional might cost more, but in fact the Drivers Ed Course is seen as a low cost alternative for both traditional drivers ed classrooms and over-priced online drivers ed courses from larger corporations. As of this date, the online drivers ed course is priced at only $39.
Get Drivers Ed Direct's Online Drivers Ed Course
Is Drivers Ed Direct Legit?
Teens and parents alike may wonder, "What makes a driving school legit?" When checking for the legitimacy of any business, there are a few tools that can help you come to a conclusion you can trust:
Is the driving school licensed by the government agency that administers driver licensing (i.e. the DMV)?

Drivers Ed Direct is a California DMV Licensed Driving School and holds verified DMV license #E4141. What does this mean? By holding a DMV license for operating a driving school, Drivers Ed Direct meets all licensing requirements laid out by the state government agency called Department of Motor Vehicles. In addition, Drivers Ed Direct must be bonded and insured. All instructors employed by Drivers Ed Direct also must be licensed by the DMV and have met the strict DMV requirements for holding an instructor's license. Finally, the online drivers ed course provided by Drivers Ed Direct has been reviewed and approved by the DMV.

In other words, Drivers Ed Direct is a legitimate driving school that is DMV licensed to provide in-car driving lessons and online drivers education courses.

What do independent reviewers have to say about Drivers Ed Direct?

If in doubt about a business' reputation, surveying 3rd party review sites can be a good way to get honest feedback about a company's service. Tools like Yelp, Google Reviews, and social media outlets like Facebook can help provide real and valuable feedback.

No matter where you look online to gain feedback about Drivers Ed Direct, you won't be hard-pressed to find very positive reviews from both students and parents. Drivers Ed Direct prides itself in being a 5-star rated company throughout the internet.
Drivers Ed Direct - How Much Is It?
Drivers Ed Direct offers a variety of services, including behind the wheel driving lessons and online drivers education. Prices for different services vary, but as of the publishing of this article, the Drivers Ed Direct DMV Approved online drivers ed course can be purchased at retail price of $39. Many online coupon codes, like app19, can save you over 50% off the online course.